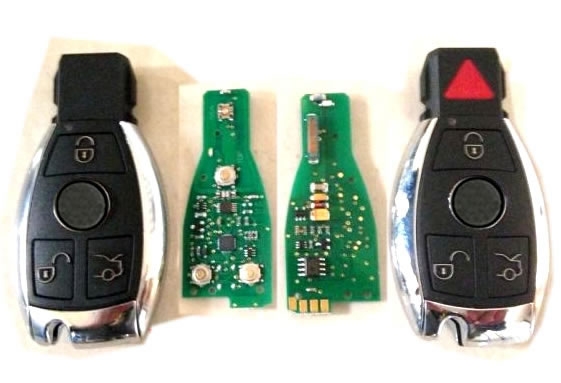 Mercedes benz smart remote key, 315/433Mhz
CHIP 24C02 instead NEC
1,315/433Mhz in the same board,you can choose the frequency when you program the board,
it will save your stock qty.
2,15-30 meters frequency distance,super stranger than NEC one.
3,easier programming
4,unlimited programming
5,our benz remote work for all silver benz remote and black one from 1999 until now.
6,Any prgorammer which can identify 24C02 will work for our benz remote.

Special offer:
we offer free service to caculate key data for customers who had ordered our benz remotes.
Customer need send us the EIS data first.
Technical Support: Info@autokeytransponder.com

step for program our benz remote:
1, read the EIS data (use AK500,ETL,xprog-m)
2,caculate the EIS data with caculator and get the remote key's data(you can use benz caculator)
you can order the caculator from here,
http://www.autokeytransponder.com/product_details.php?item_id=1935
3,write the data into 24C02 chip of our benz remote(most eprom which can recognise 24c02 will work for it)